Jabra Enhance Select 200 w/Premium Care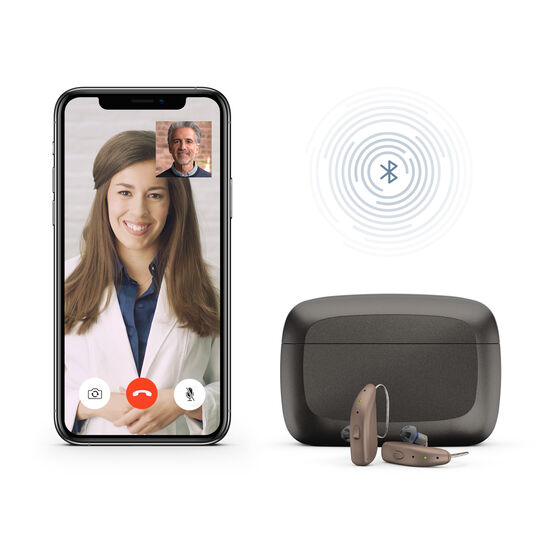 The Jabra Enhance Select 200 is an advanced rechargeable hearing aid, with natural sound even in the noisiest situations, like a loud party. And it's packed with extra features like a luxe array of colors and hands-free calling for iPhones. Try it with the included 100-day risk-free trial, including free shipping and returns. When purchased through AARP® Hearing SolutionsTM provided by UnitedHealthcare Hearing, AARP members automatically receive the Jabra Enhance Premium Care Package at no extra cost. It comes with 3 years of virtual hearing care from the Jabra Enhance Audiology Team so you have the benefits of professional support. See Follow-up care section for more details.
Details
Smart microphones for the best speech clarity and noise reduction offered by Jabra Enhance
Automatically adapts to your unique sound environments
Bluetooth streaming, with hands-free calling compatible with Apple iOS See compatibilty
Premium charging case holds 3 full charges. Each 3-hour charge gives you 30 hours of listening time
Music Mode for improving the sound quality of live music
Binaural Directionality mimics how your brain interprets sound
Requires compatible Apple or Android smartphone/device See compatibility
Follow-up care
Through AARP® Hearing Solutions, AARP members automatically receive the Jabra Enhance Premium care package. This package includes everything you need to personalize your new hearing aids to your unique hearing ability:
3 years of remote hearing care with the Jabra Enhance Audiology Team
3-year warranty and 3 years of loss & damage protection details
Free mobile app for easy adjustments, no office visits ever
Support from the Jabra Enhance Care Team, 7 days a week
For individuals 18 or older with perceived mild-to-moderate hearing loss
Subject to Jabra Enhance Terms and Conditions
Telehealth services through Jabra Enhance are available for members residing in all 50 states and Washington, DC only.