Take an online hearing test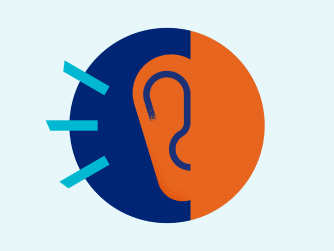 The online hearing test only takes about 3 minutes.
You'll need headphones (in-ear or on-ear) so you can listen.
The test will give you an idea of how well you're hearing and whether you should schedule an in-person test with a UnitedHealthcare Hearing provider.* The online hearing test is not designed to replace a professional hearing test. If the results indicate hearing loss, you'll be presented with the information that will help you choose the care option that's best for you.
Causes and related conditions
Hearing loss can affect anyone. It can be caused by age, genetics, chronic diseases or even long-term exposure to loud noises from concerts, work equipment and sporting events.1 Also, untreated hearing loss has been linked to health conditions such as:
Treat hearing loss, gain confidence
Getting a hearing test and hearing aids can make a positive difference in your daily life. In fact, 72% of those with hearing loss can benefit significantly from a hearing aid.2 And the benefits go beyond better listening and communication. Treating hearing loss may help improve:
Already have a hearing test?
If you completed a hearing test within the last 6 months,
upload a copy of your test
(audiogram) now. An experienced hearing professional will review the information submitted to us and provide you with a recommendation.
1 American Speech-Language-Hearing Association. Untreated hearing loss in adults. asha.org/articles/untreated-hearing-loss-in-adults/.Accessed Nov. 5, 2020.
2 U.S. National Library of Medicine, National Institutes of Health. "Study of hearing aid effectiveness and patient satisfaction." ncbi.nlm.nih.gov/pubmed/26050856. Accessed April 6, 2020.